Play Online Blackjack at Lucky Emperor Casino
Learn To Win - Online Blackjack Tips
The object of the game of blackjack is quite straight forward. If the dealer has a higher hand than you or the sum of your cards is over 21, you lose. You don't need to be too concerned about the cards of other players on the table. It will only be given much importance if you are counting cards for strategy.
Blackjack
Our version of Classic Blackjack is played exclusively with a single 52-card deck, as this offers you the best possible chances of winning. Like any other game Blackjack has certain rules. We offer many different versions of blackjack at the casino online so it is up to you to decide which one suits your playing style. There are plenty of ways for a blackjack player to increase their chance of winning. Whether you are a novice, intermediate or advanced player, following the tips below will help you increase you chances of winning.
Always keep in mind that blackjack is a game of skill. Not many players work to build their blackjack skills and play purely on chance.
The name of the game in blackjack is to beat the dealer. You don't always have to try and get as close as possible to 21.
Although you can bring the edge to a low level in blackjack, it is not a game that you can consistently win on. This may be the most important of all the blackjack tips to keep in mind; you can't always win. Accept that losses are a part of the game.
It is entirely possible to play with basic strategy and work the house edge down to under 1%.
Be cautious when being offered insurance. Only take it if you have a strong feeling that the dealer has blackjack, or if you are aware of what cards are left in the deck.
Know when to stop. A winning streak on blackjack won't last forever. If you aren't winning much, save your funds for another session.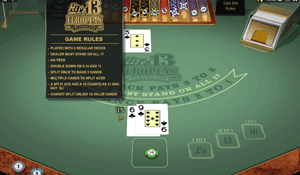 © 2018 - Lucky Emperor Casino
Affiliate ID: TYPEIN_LE: