Online Roulette at Lucky Emperor Casino - Play our Most Popular Casino Game!
Learn To Win - Are you a winner or loser?
In every online casino there are players who win and players who lose! What is the difference between a winner and a loser? Is it just luck? Most casinos would like you to think so.. or could it be that some players understand the games better, they know the odds, hence they give themselves the BEST chance of winning, essentially they MAKE THEIR OWN LUCK! Take the time to read the information below, you too can learn to beat the system and become one of the WINNERS.
Why not download the free software while you read through these tips!
Roulette
Roulette is one of the most popular casino games. You can experience it like it was the real thing... This section is designed to help you enjoy the experience of playing roulette at an online casino. We have tips for playing, rules to help you win some money. With all casinos there are winners and losers, understanding the games will help you turn your purchases into a win. Beat the odds, it's not just luck there is mathematics and money management is the key to keeping you playing longer and giving you more spins for your gaming dollar.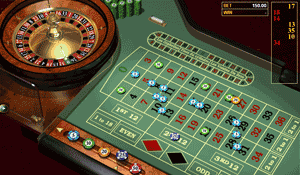 Roulette Tips
This is a short list of simple to remember, and easy to follow roulette tips. The fact is, there are no roulette tips that will make you a bundle, but there are some that may keep you from losing one.
Never follow anybody's system. Even reputable names in the online gambling industry recommend you spread your bets around with a 'system' that makes no sense. Umm, ok let me just place the black and third column, so that if I win on one I will most likely lose the other. I'm sure they've convinced a million people to play though, because look at how few numbers could cause you to lose completely! That was sarcasm, subtle, but sarcasm. Spurious logic spouters, never listen to them.
Look hard for a single zero roulette wheel. This will cut the house edge much more than any other option in the game of roulette.
No matter how appealing a new and sexy bet might feel, never bet the five number bet, it has the worst odds on the table.
Search for casinos that offer the surrender rule. This will cut the house edge almost as much as a single zero roulette wheel will, but only on even-money outside bets.
No really, no systems.
Don't spend your time looking for a biased roulette wheel. Although this may have been a valid methodology a couple of decades ago, any casino worth it's chandeliers checks it's own roulette wheels for biases.
RULES
Roulette rules - the outside bets The core of a roulette board contains the numbers 1 thru 36, plus 0 and 00. On the edges of the table are places for outside bets. An outside bet can be a bet placed on a group of numbers, or some binding characteristic. All outside bets lose if the ball drops on 0 or 00.
Roulette Bet Types
Red / Black - A bet that the winning number will be the color you bet on. Pays even money 1 to 1.
Odd / Even - A bet that the winning number will be either odd or even. Pays even money 1 to 1.
Low / High - A bet that the number will either fall in the range of lower numbers (1-18) or the range of high numbers (19-31). Pays even money 1 to 1.
Columns - A bet on the 12 numbers contained in any one of the three long columns on the layout. The roulette table is just that, a table, with three columns an 12 rows. At the end of these columns there are places (usually labeled 2 to 1) to lay chips. Roulette rules state that if a number in your column comes up you win. Pays 2 to 1.
Dozens - a bet on either the first dozen numbers (1-12), the second dozen (13-24), or the third dozen (25-36). Pays 2 to 1.
Inside bets - Inside bets are made on specific numbers or combinations of numbers either within the number layout or on the border. There are a few different types, and roulette rules may vary by establishment.
Straight-up bet - A bet made on a single number (including 0 or 00). Place this bet by putting your chips squarely in the center of the number you want. This bet is a long shot, and pays 35 to 1.
Split bet - A bet on any two adjoining numbers (including 0 and 00). To place this bet put your chips on the line separating the two numbers. If either of the two numbers are where the ball falls, you win. Pays 17 to 1. It's worth mentioning that you can also play a split bet on 0 and 00 by putting your chips on the line separating the second and third dozen. This is used to save some time and effort for people at the far end of the table.
Street bet - A single bet that covers three numbers in a row. Place your chip on the outside line of the row you want to bet. Pays 11 to 1.
Corner bet - A single bet on four adjoining numbers that form a square. Place your chip where the four numbers converge. This is also known as a square bet or a quarter bet, depending on the casinos roulette rules and titles. Pays 8 to 1.
Five-number bet - there is only one five-number bet. Place your chip at the corner of the intersection of 0, 1, and the first dozen. This bet covers 0, 00, 1, 2, and 3. Pays 6 to 1.
Six-number bet - this is better known as a 'line bet'. This bet covers two adjacent rows of numbers. To make this bet, place your chip on one of the outside lines at the intersection of two rows. This bet pays 5 to 1.
Thank you for taking the time to learn. Now become one of the WINNERS by playing here at Lucky Emperor Casino. Beat the odds by utilizing your newfound knowledge. Download in one easy step, and it wont cost you a thing. Thentake advantage of our signup bonus - think of it as a nice little kick-start on your new enlightened road to riches.
© 2018 - Lucky Emperor Casino
Affiliate ID: TYPEIN_LE: