Video Poker at Lucky Emperor Casino - Start Playing Today!
Learn To Win - Are you a winner or loser?
In every online casino there are players who win and players who lose! What is the difference between a winner and a loser? Is it just luck? Most casinos would like you to think so.. or could it be that some players understand the games better, they know the odds, hence they give themselves the BEST chance of winning, essentially they MAKE THEIR OWN LUCK! Take the time to read the information below, you too can learn to beat the system and become one of the WINNERS.
Why not download the free software while you read through these tips!
Video Poker
Video Poker is a popular casino game. This section is designed to help you enjoy the experience of gambling online playing video poker. We have tips for playing, rules and general advice to help you win some money. With all casinos there are winners and loosers, understanding the games will help you turn your purchases into a win. Beat the odds, it's not just luck there is mathematics and money management is the key to keeping you playing longer and giving you more turns for your gaming dollar.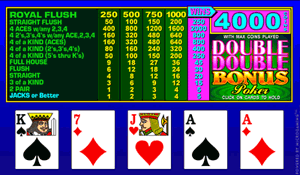 The name of the game "Deuces Wild" refers to the fact that the deuces in the pack (those cards with a face value of 2) can stand in for any other card of any suit. It's like having 4 jokers in the pack! Whenever you get one or more deuces in your final hand, the computer will automatically assign a suit and value to it to give you the highest possible payout, in light of the other cards that you are holding. This ensures that it is a lot easier to create potentially winning hands.
The name of the game "Jacks or Better" refers to the fact that you must have a pair of Jacks or higher to win. If you are playing Power Poker, you are playing more hands at the same time, thus increasing your chances of winning!
Video Poker Tips
Playing video poker at an online casino is very similar to the game play of a regular casino. When you choose to hold a card, it is kept for the duration of the hand. Once you click the Draw button, your un-held cards are re-dealt. Your final hand will determine the amount of winning you are to receive.
When you have completed the game, the total hand value of all hands is calculated and the total winnings added to your credits. If you have a winning hand you will have the option to double or collect your winnings.
The highest hand you can get in Video Poker is a Natural Royal Flush and it pays out around 4000 coins with five coins bet.
Thank you for taking the time to learn. Now become one of the WINNERS by playing here at Lucky Emperor Casino. Beat the odds by utilizing your newfound knowledge. Download in one easy step, and it wont cost you a thing. Then take advantage of our signup bonus - think of it as a nice little kick-start on your new enlightened road to riches.
© 2018 - Lucky Emperor Casino
Affiliate ID: TYPEIN_LE: